Necklace length
Necklaces are worn in different lengths: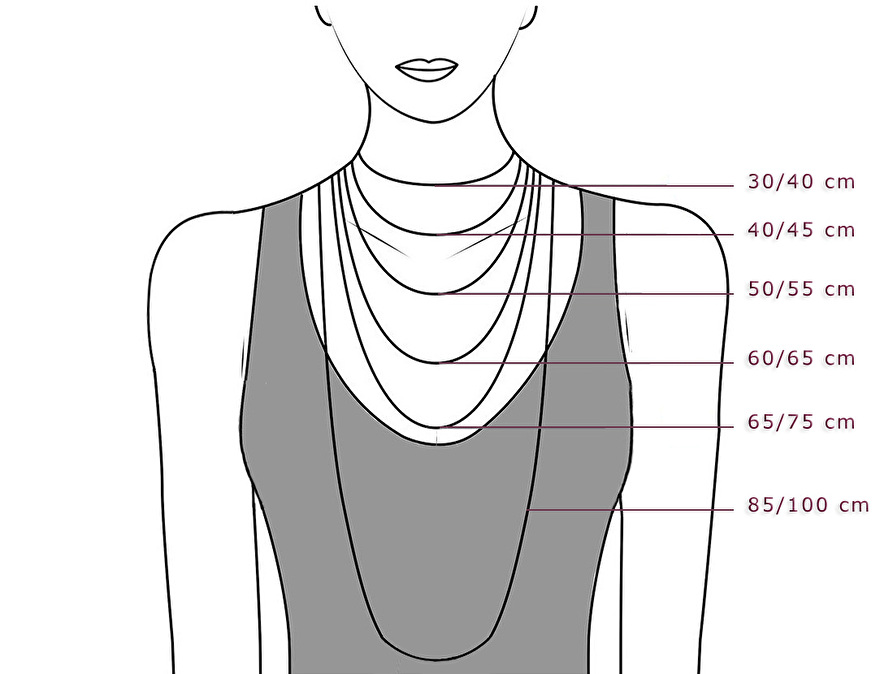 30 to 40 cm (11.8 to 15.7 inch): Short necklaces chokers as closely to the neck and are 30 to 40 cm long.
40 tot 45 cm (11.8 to 17.7 inch): Some link chains, necklaces with pendants, rope necklaces and long chokers are between 40 and 45 cm long. These hang on to the collarbone and pendant on the sternum.
50 tot 55 cm (19.6 tot 21.6 inch): Many link chains, rope necklaces and chains with pendants are between 50 and 55 cm long. These come to the top of the sternum. It is a nice lenght for a necklace with pendant
60 tot 65 cm ( 23.6 inch to 25.5 inch): Link chains, cord chains with or without a pendant of 60 to 65 cm rise above the bust.
65 tot 75 cm (25.5 tot 29.5 inch): Long chains of 65 to 75 cm come to or over the bust.
Necklaces of 85 cm (33.4 inch) and longer: Necklaces longer than 85 cm long come to or under the navel. These chains can also be wrapped two or three times around the neck.
---

​ Jewelry advice

​ Maintain jewelry

​ Silver test

​ Ring size chart

​ Earring sizes

​ Measure bracelet size


​ Necklace length

​ Types of link chains

​ Color use

​ Gemstones

​ Materials

​ Lucky symbols
---
© Copyright Goudkat. All rights reserved.
silver gold plated short chain necklace

Sterling silver chain necklace
Genuine silver with gold plated 45 cm fine chain necklace
Excellent quality real sterling silver jewelry with 925 silver stamp
Real silver earrings, silver necklace, silver bracelets, silver rings

€ 19,90